Cap & Gown
---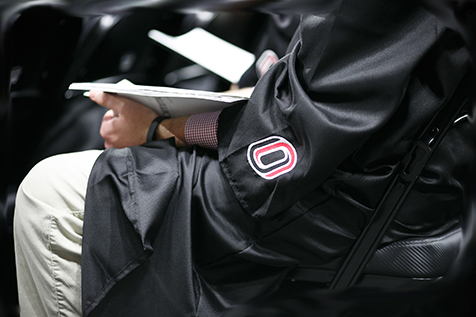 The UNO Bookstore is the only place to get your official Commencement regalia!
Before ordering your cap & gown be sure and Apply for Your Degree on MavLink!
---
The UNO Bookstore is able to accommodate changes to previously ordered graduation packages (cap, gown, and tassel) due to the change in venue to virtual commencement ceremonies for December 2020.
If a student wishes to modify an order, please follow this process with the UNO Bookstore:
For orders requesting in-store pickup: We will personally reach out to explain your options.
For students that placed an online order:
Students may ship packages back for a full refund (or partial if they want to keep the cap and tassel) as long as they include their receipt in the refund package. If the order was placed 45 days ago or more, and paid by credit card, we will contact the student to get the card information to process the refund.
For students who purchased in-store:
Students may ship refund packages (gown, tassel and cap) back to us, but MUST include their receipt. These students can ONLY be offered a full refund. If they want to purchase a cap and tassel they will have to place an new order online. We will be able to do a credit card refund at the register without needing the physical card as long as we have the original receipt from the purchase. We would also be able to do student account refunds. If a cash or check was used to purchase these students will need to physically come into the store for a refund. Refunds that need to be done in the store can be arranged by appointment once the UNO Bookstore resumes regular business hours.
The shipping address for returns is:
UNO Bookstore
6001 Dodge Street
Omaha, NE 68182
Please note all shipping costs will need to be paid for by the customer.
All refunds and exchanges must occur on or before December 18, 2020.
---